The IPATA Room Block is sold out. The Hotel is honoring the IPATA discounted rate on a space-available basis. If you encounter an issue, please contact
The Hyatt Regency is Chicago's largest hotel, just steps from the Riverwalk
Offering an energetic, urban retreat near Navy Pier, Hyatt Regency Chicago features the most hotel rooms and largest selection of meeting space in downtown Chicago. The gateway to the city's top attractions, you can walk to Millennium Park, or shop on Magnificent Mile. Click here to view their promotional video.
Services and Practical Information
Hyatt Express check-in
multi-lingual staff
gift shop
complimentary boarding pass print stations
currency exchange
safe-deposit boxes at front desk
fitness center
swimming pools: lap pool, hot tub and rooftop
specialty dining
laundry
room service
concierge
business services
on-site car rental
valet parking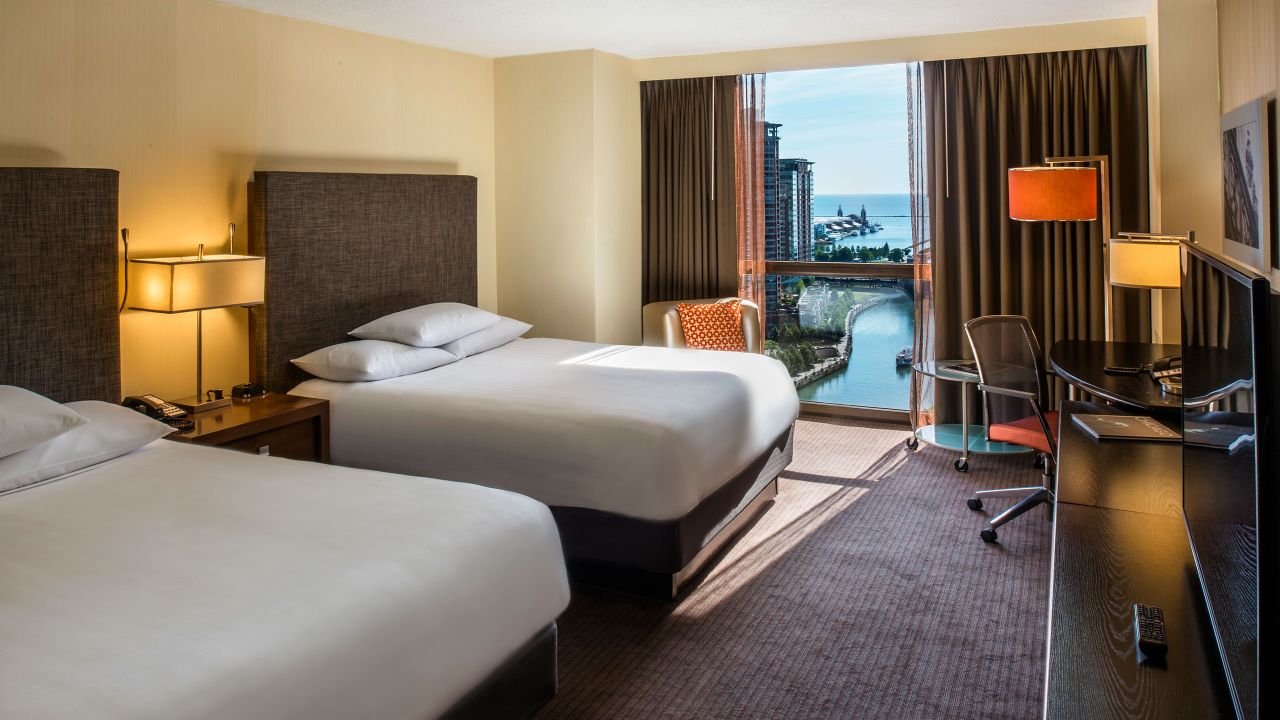 Attendee Rates (no breakfast):
1 Queen Bed - $199 USD plus taxes and fees
1 King Bed - $199 USD plust taxes and fees
2 Queen Beds - $199 USD plus taxes and fees
2 Double Beds, High Floor - $219 USD plus taxes & fees
1 King, High Floor - $219 USD plus taxes & fees
Reservation deadline Oct 7, 2019
Breakfast Rate
1 Queen Bed - $230 USD plus taxes & fees
1 King Bed - $230 USD plus taxes & fees
Rates Include:
complimentary guest room internet
access to fitness center
discount on valet parking
free wi-fi
Other hotel details: four restaurants, bar, 24/7 room service, business center, and fitness center.
Policies:
Tax Policy: Occupancy Tax for the hotel is 17.4%. Taxes and fees are subject to change.
Cancel Policy: Please cancel by 3pm, 48 hours prior to arrival to avoid one night's room and tax penalty.
Children Policy: Children aged 18 years or younger will stay free of charge in their parent's room. If all occupants of the room are under 18 they will be charged the full adult rate.

Get the IPATA Group Rate! Click Here
Please Note: Hotel room rates are available with or without breakfast. If Breakfast rate is chosen, breakfast will be provided at the American Craft Kitchen in the hotel lobby, and available from 6 – 11 am. Breakfast is not included as part of the IPATA program.
Rates are available October 26 – November 10, 2019 at the IPATA discounted rate. For extended stays, please contact the hotel directly for availability.
Want to share a room? Contact Marcie via email or call +1-903-769-2848
* We encourage attendees to make their hotel reservations early and register early. If visas do not come through in time, the hotel allows for cancellation up to 72 hours prior to arrival time with no penalty and 72 to 24 hours prior with a one night's reservation cancelation fee.
We urge everyone to stay as many nights as possible at the conference hotel. IPATA has a contract with the hotel which commits us to use a certain number of room nights. If less are used, IPATA will need to pay for the unused rooms which can affect how we manage conferences going forward. So help us out - stay at the conference hotel and enjoy better networking opportunities by being in the same location as your other IPATA members.
Hotel Location and Contact Information

151 E Wacker Dr.
Chicago, IL USA 60601
Tel: +1 312 565 1234
Fax: +1 312 239 4795
chicago.regency.hyatt.com

From O'Hare Int'l Airport
18 miles/45 mins

From Midway Int'l Airport
12 miles/35 mins
AIRPORT SHUTTLES: Hyatt Regency Chicago does not offer a shuttle from O'Hare International Airport or Chicago Midway International Airport. However, Go Airport Express is an easy, affordable shuttle option from either airport to the hotel.

UBER Chicago: ORD, Midway Airport, or out on the town, Uber connects you with a reliable ride — from low-cost uberX and uberXL to premium UberBLACK and UberSELECT — in minutes. One tap and a car comes directly to you.

Ogilvy Transportation Center: 1 mile

Chicago Union Station: 2 miles

Greyhound Bus Terminal: 2 miles

CTA Blue, Brown, Green, Orange, Pink, Purple, and Red Lines

Michigan & East Wacker bus stop » Access to Navy Pier, North Avenue Beach, Lincoln Park Zoo, Blue Island, United Center, Museum Campus